Hey everybody, Seeing as this season I'm going to be sharing the latest and greatest in the ski world and well, everything else to do with that white stuff that seems to fall out of the sky every year around this time, I thought I'd first share what I'm all about.  That way, you know it's legit.
[caption id="attachment_2603" align="alignnone" width="572" caption="Getting inverted at Canada Olympic Park"]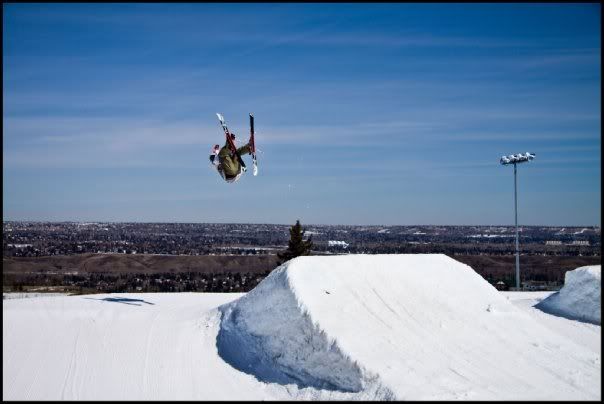 [/caption]
Alright so my name's Eric Beckstead. I was born and raised in Calgary, Alberta for 18 years and I first started skiing at age two and a half. Those first turns...or snow plows, were taken at Kimberly ski hill in B.C. I immediately fell in love with the sport, everything about it intrigued me. From the good vibes, adrenaline rushes, beautiful settings, to generally just the good atmosphere of skiing. I couldn't imagine a better way too spend a winters day. Throughout the winter, as a kid, I would drive my parents nuts, begging them to take us skiing. By the time I was 6, I was ripping past my parents and I was even giving my then 12 year old sister a run for her money. I would always be cutting into the trees and ripping as quick as I could and launching of anything that, well, could launch me off at all. It wasn't until I was 14 or so that I began to make skiing my life. I was skiing in the park one day at C.O.P (Canada Olympic Park) when I randomly ran into one of my good friends Ryan Waddell. Remember that name, whenever he's not injured he's always out killin it.
[caption id="attachment_2603" align="alignleft" width="193" caption="Ryan Waddell boostin at the World Cup in France"]
[/caption]
Anyways, not to digress, but when I watched him and a friend, Noah, hitting the jumps there and floating the smoothest 3's and 5's I'd seen up too that point, I instantly decided to make skiing the main focus of my life. I joined C.O.P's club ski team, C.O.P Freeskiers, the next season where I skied and competed for three years. I also began teaching at C.O.P when I turned 16. I then went on to coach Freeskiers the following season. When i graduated from Lord Beaverbrook High School, I realized I would need to live somewhere where I could go to school and ride as much as possible.
I got accepted into the Art Institute of Vancouver for film and video production. This seemed to workout well with my plan, seeing as I have several incredible ski hills just hours away. Once here, I wanted to be skiing whenever I could and keep in touch with the community. Once again, my plans worked out when I got accepted as a Grousepark.com Blogospondent for this 09/10 season. Here, I plan on letting you guys know the lowdown on all things important on the snow and industry fronts. I also plan on filming as much as i can when out and throwing up something new for you all.
[caption id="attachment_2603" align="alignright" width="275" caption="Backflippin a backcountry jump me and the crew built on Rae Glacier"]
[/caption]
My camera got stolen, so hopefully mom and dad are feeling generous this Christmas and help me out with the camera fund. Then I can throw up some pics. Oh, and any donations are quite welcome! Anyways I'm really stoked on coming out here and spending the season at Grouse. Enjoy it locals, this place has the most beautiful views! (I'd put up some pics if I had a camera..). If any of you see me ridin' give me a shout, always down to shred! Currently, I'm reppin' some earth tone gear, green pants, brown jacket and ridin' Urban Punx or my JJ's. I like to switch it up so you might have too see through my disguises, hahah. So, there's a little insight on what makes me who I am. Hope too see all you locals and visitors alike up there!
[caption id="attachment_2603" align="aligncenter" width="530" caption="Keep it real, Grouse!"]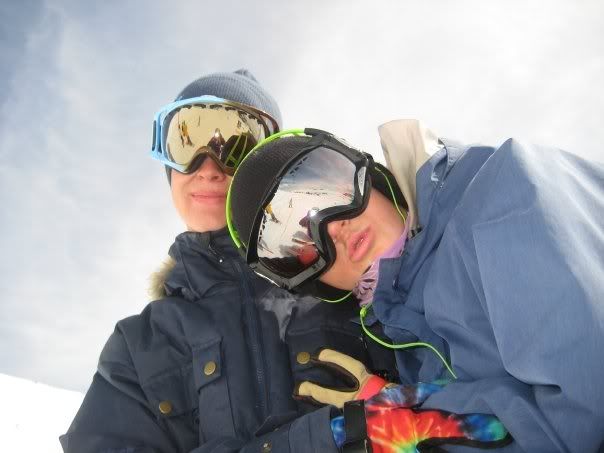 [/caption]
Shredd it like cheese!!
Eric Beckstead